Everything that doesn't fit into a different category goes here.
Moderators: Brendan, Phan-Tom, duey
Last edited by
quicksdraw
on Mon Apr 21, 2008 12:38 am, edited 2 times in total.
I totally agree with
jadelu7
...especially about just being a human copying machine.
But in my case...I don't have a particular style.
Maybe I have but never liked it.
So, my style is probably to copy....
and I won't consider myself an artist..probably a
renderer
?
To me, every piece of art (painting, drawing, sculpting, inking,etc) has to be created bye someone artistic. I'm not excuding copying some picture or anything, cause I think every person that copy a picture copies the way he see's that picture and that's the artistic touch of it. Even the masterpieces with have so many details in them... they reflect the way the autor see's life (he probably see's every little details of objects and everything). Every piece of art is unique and originality can be seen in each and everyone of them !! Maybe you don't imagine something when you're copying but you're always putting your own touch!!
my guess would be having these abilities to create, design and produce would be artistic.

if someone can think, hmm a circle and 4 straight lines could make a stick person... that would be creative, then they would design it out in their head how it should look, then put it on paper, that would make them artistic for being able to do something like that.

i guess it would at least,lol.... my .02

Z ur an artist man, dont throw your self out the window as a waste
Thiago Leal
João Pessoa, Brazil
http://thiagoleal.deviantart.com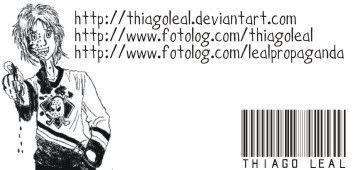 The good and bad art you're talkind about is REALLY relative to every person!! I could say Hip Hop music is bad art ... and someone else would say that I'm crazy!

I don't think there is something like good art or bad art. It's more from peoples tastes.
---
Who is online
Users browsing this forum: No registered users and 2 guests