Share your drawings with other members and offer critiques.
Moderator: duey
Hi guys, I've just began.
Last edited by
Jonathan Ortiz
on Wed Oct 19, 2011 5:39 pm, edited 2 times in total.
Still working
Outstanding!! How did you do all that so fast?
Hi Helen, I'm a tattoist and I must work fast because my canvas is human skin. I draw everyweek in order to improve the tattoing process.

In my drawings I apply the kind of technique I use while I'm tattoing. I try to get some focal points then I build the rest of the drawing.

I must imagine that the paper is human skin. The big difference is that in your paper you can erase all you want, but on skin you can't, it is bloody, the person moves because of the pain, and skin is not flat, maybe you can make two sessions, so it's a big challenge.

Thanks for your question.
Update
Your picture is awesome so your tatooing must be really something! I have always been fascinated by tatoo artists and the precision it takes. The skin has to be the most difficult canvas to work with.
I've just finished it.
outstanding job bud.
only thing that i see to crit. is left eye seems a tad off.
otherwise im impressed. you do awsome works hon. and i aplaude the fact u do skin art. been told i have the styles for it. but workin on someone and paper is way differant. duno if i could hang.
bravo
shawna
with my head firmly in the clouds, i let my pencils sing and dance.
live well, love much ,smile often
Hi guys, thanks for your comments. Here I post the reference image.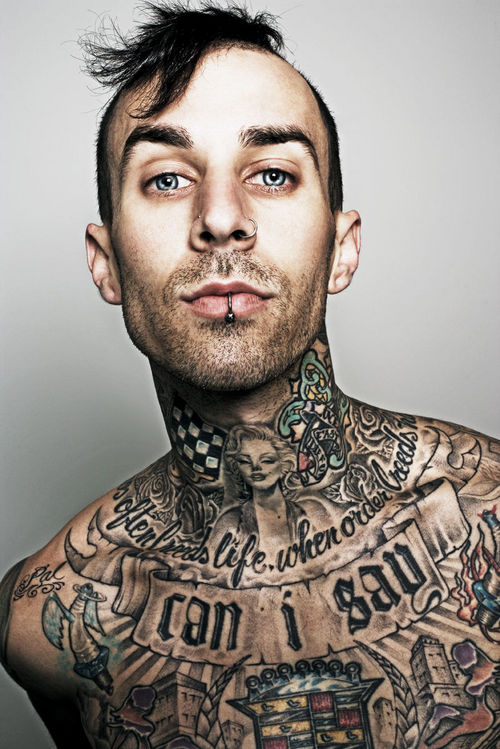 good drawing, very accurate... but blink 182 is a down right garbage band, IMO
do it on paper!
http://oscar0990.deviantart.com/
A really nice drawing.

I notice you sharpen your blending stumps, i gave up doing that a while ago. I could never get them to sharpen perfectly.
David.
---
Who is online
Users browsing this forum: No registered users and 16 guests